Happy Holidays, what a year it has been! Before the New Year, here's some news on the Commonwealth and the 93rd distinct. This newsletter contains legislative and local announcements, updates on Virginia's continued effort to beat COVID-19, and more!
Governor's Proposed Budget
On December 16th Governor Ralph Northam proposed his biennial budget for 2022-2024. The proposed budget is a reflection of Governor Northam's historic progressive leadership as the most economically successful governor in Virginia's history. In the past four years, Virginia has generated record economic growth, with $80 billion in capital investment, and created more than 100 thousand new jobs. Under Governor Northam, Virginia generated a $2.6 billion surplus—the largest in the Commonwealth's history.
The Governor's remarks as prepared for delivery are below and the key highlights of the Governor's budget amendments can be found here.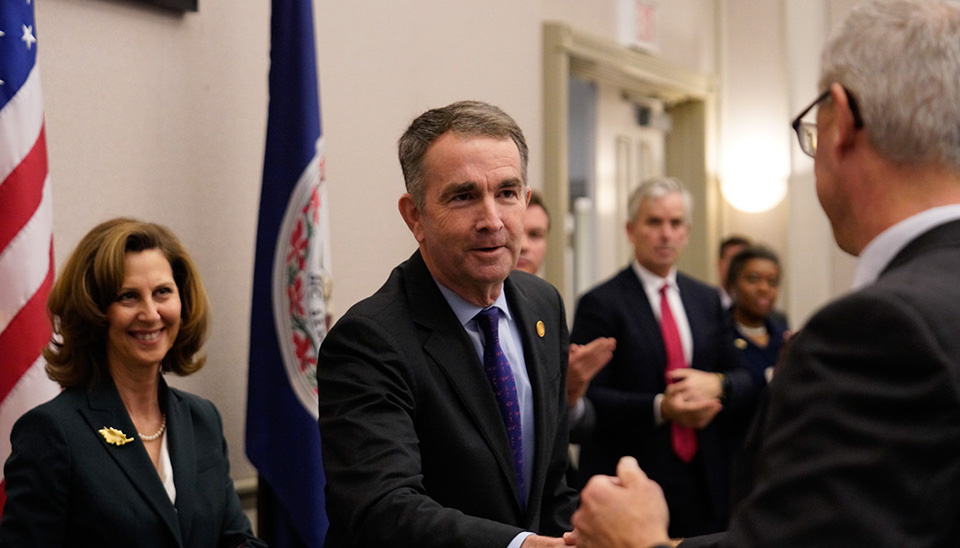 Widening of I-64
On December 21st the Virginia Department of Transportation marked the completion of I-64 Widening of Segment III with a ribbon-cutting ceremony. The Project in its entirety was within budget and on schedule, meeting the Dec. 17, 2021, contract completion date. The project's improvements included the widening of approximately 8 miles of I-64, from two travel lanes to three in each direction, between Route 199/Newman Road in Lightfoot (exit 234) and Route 199/Humelsine Parkway (exit 242), as well as a full replacement of two bridges over Queens Creek. The project also included the widening and rehabilitation of four overpass bridges, over Lakeshead Drive and the aforementioned set over Colonial Parkway.

Commending the Williamsburg Health Foundation
This past month, I was honored to present HJR 751 the Williamsburg Health Foundation, a leading public health organization in the Greater Williamsburg area, announced a $1 million grant in 2020 to provide eviction relief to residents in the region during the COVID-19 pandemic. Recognizing the vital connection between health and housing, the Williamsburg Health Foundation will provide funding to the City of Williamsburg and the Counties of James City and York to help ensure that their citizens remain safe and well during this historic public health crisis. The eviction relief initiative lead many residents to reach out to the human services department in their locality, which in turn will help them connect with various other beneficial programs and services.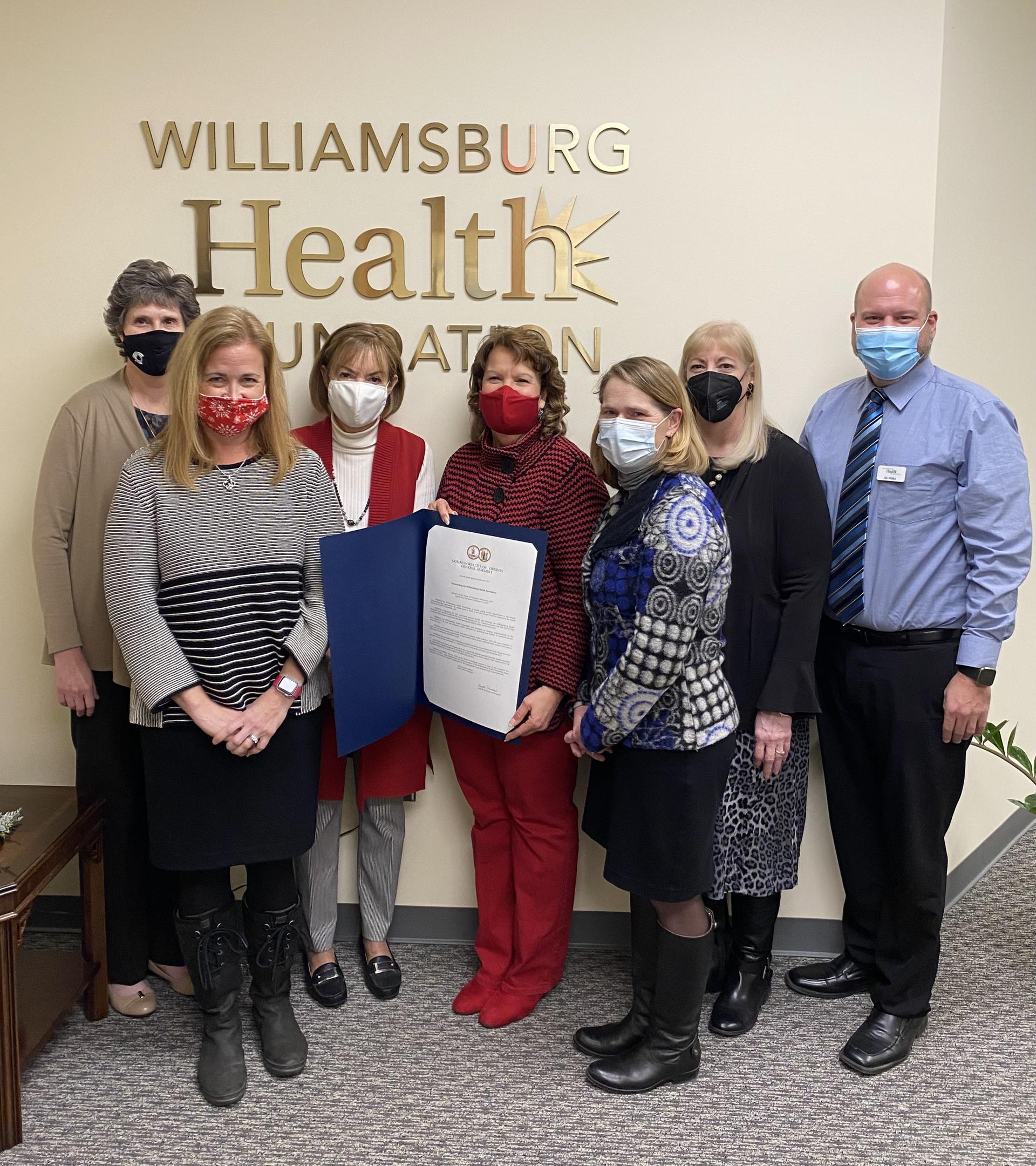 Celebrating the life of George S. Genakos
I was honored to present HJR 757 to Steve Genakos, the son of George S. Genakos, a former member of the Williamsburg City Council who passed on December 1, 2020. George S. Genakos was born in Lowell, Massachusetts, and served his country as an officer in the United States Air Force and later became an independent contractor for the Department of Defense. In 1975, the Genakos family moved to Williamsburg. George desired to better serve his community, so he ran for and was elected to the Williamsburg City Council in 1986, 1992, and 1996, winning the most votes of any candidate in each election and becoming the city's first elected Greek American; he would go on to serve 12 years in total. He was known for his generous friendship, sound advice, honesty, and involvement within the community.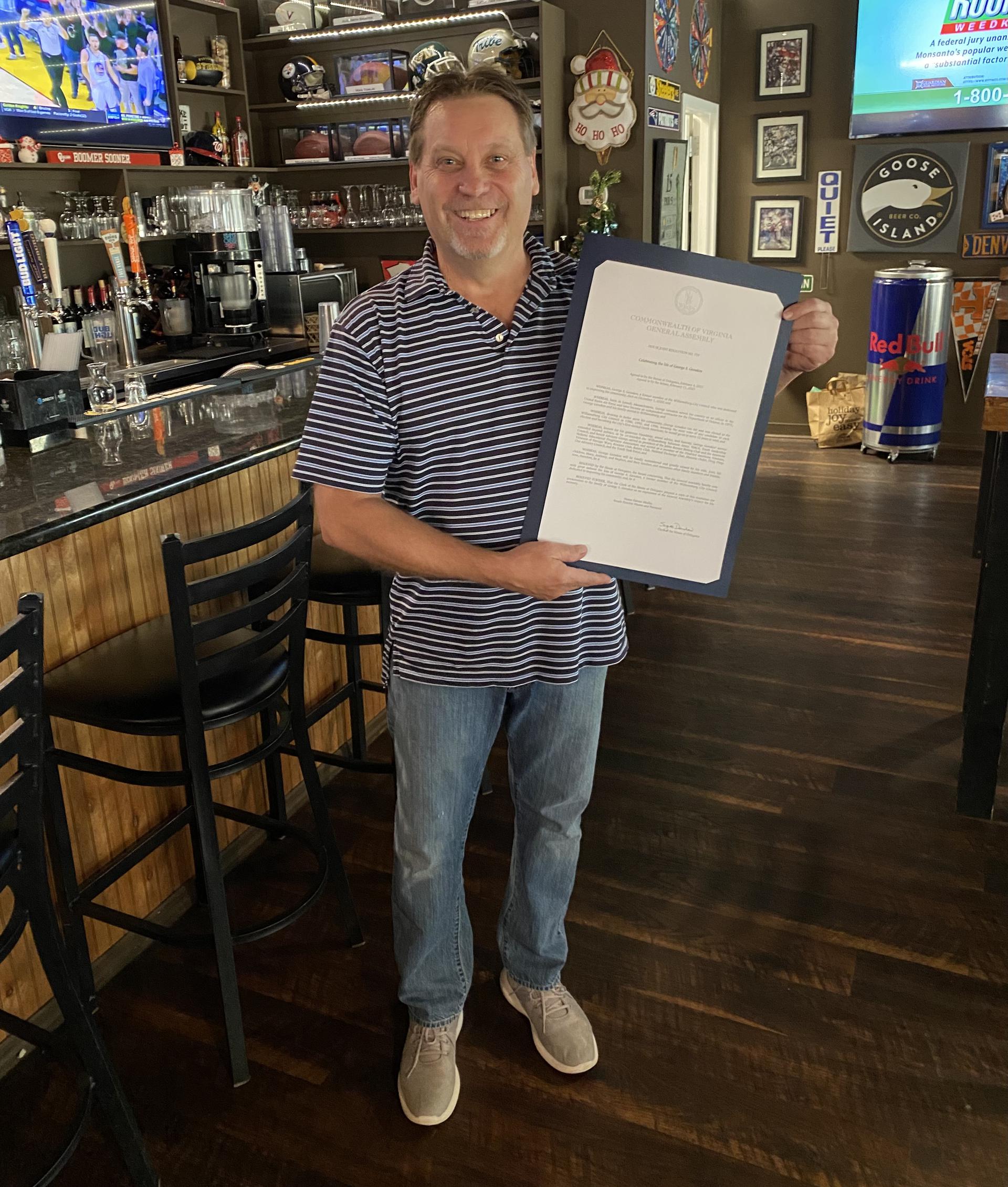 COVID-19 Vaccinations and Booster Shot Updates
Great Job Virginia! Three out of every four adult Virginians are fully vaccinated against the coronavirus, but our work is not done yet. All Virginians aged 5 and older are eligible to receive the covid-19 vaccine! If you haven't received either a first or second dose, you can get vaccinated at many distribution sites without making an appointment first. If you would like to find a place to get the vaccine you can find vaccination sites here or by calling 877-829-4682.
VDH recommends that individuals who received the Pfizer-BioNTech and Moderna vaccine can receive a booster dose about 6 months after their second dose. Those individuals who received the Johnson & Johnson vaccine are recommended to receive a booster dose at least 2 months after their shot.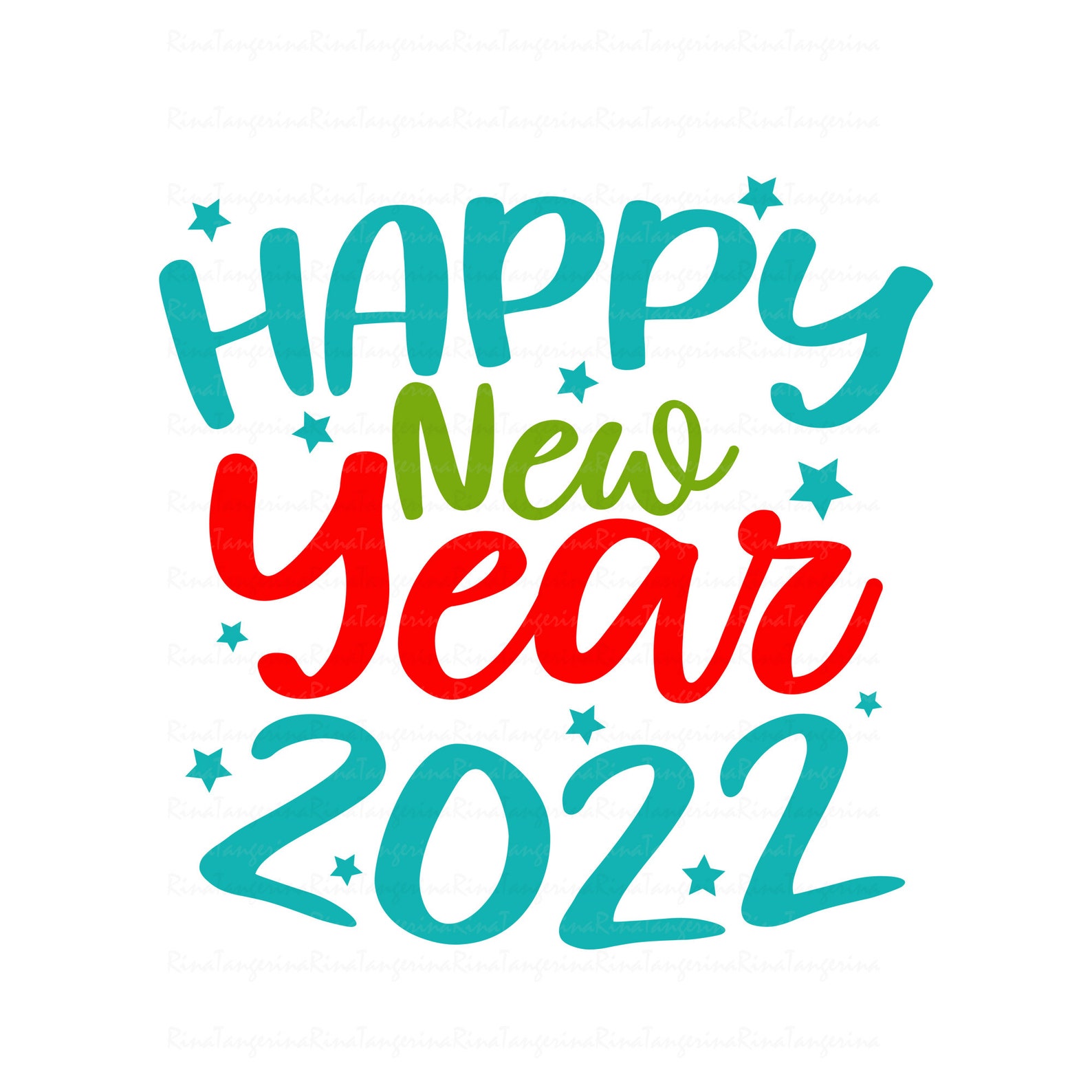 Happy New Year!
I just wanted to wish you and your family a Happy New Year! I hope you are able to take some time and spend it with loved ones this week.
It is hard to believe 2022 is already upon us. Shortly after the New Year, I will head to Richmond for two months to represent the 93rd House District during the legislative session. As always, I am forever thankful, humbled, and lucky to serve.
That's all for this newsletter, thanks for reading! Keep connected with our office by calling (757) 525-9526, emailing DelMMullin@house.virginia.gov, or @mikemullin4va on Facebook, Instagram and Twitter. If my office can ever be of assistance to you, please do not hesitate to contact us!
Be Well,
Mike