Last month we came to the end of the 2022 Virginia General Assembly Regular scheduled Session. It's hard to believe that two months have passed since the General Assembly Session started. Keep reading for an overview of legislation communicated, on the Governor's desk and what has been signed. This newsletter also contains updates and news on the Commonwealth and the 93rd district.
Legislative Update for the 2022 Session as of April 3rd:
The House Clerk's Office has enrolled 747 bills for the signatures of the presiding officers (Speaker for the House and Lt. Governor for the Senate);

We have communicated all 747 bills to the Governor's Office for his review;
The Governor has acted on 76 bills to date.

Of these 76 actions, the Governor has AMENDED one bill (HB298, and VETOED one bill (HB670)
The Governor's deadline to recommend amendments or veto legislation from the 2022 Regular Session remains Monday, April 11, 2022, at 11:59 PM since we adjourned on Saturday, March 12, 2022, as scheduled pursuant to HJ 21, the procedural resolution. [The Governor has a 30-day window to act on bills sent to him after the Regular Session of the General Assembly has concluded.]
The Governor has called us back for Special Session I scheduled to start April 4th at 12 noon to vote on the final state budget (HB 30) and any outstanding conference reports.
Our tentative reconvene session on April 27th to review the Governor's vetos and line item amendments.
Team Mullin's Bills
I'm proud to say that four of the bills I carried this session are on their way to the Governor's desk for his signature. With these pieces of legislation, we've taken steps to protect the elderly and vulnerable adults, and we worked to reform the criminal justice system and preserve Virginia's History.
HB 496 our bill to change the term "incapacitated adult" to "vulnerable adult" for the purposes of the crime of abuse and neglect of such adults
HB 497 this bill creates a penalty for the misuse of power of attorney; financial exploitation of incapacitated adults
HB 502 our bill to give credit for time spent in confinement while awaiting trial
HB 508 our bill to preserve and honor the history of the Green book was turned into a Budget Language Amendment in Item 126 #5h
See a full list of our bills HERE
Our Budget Amendments:
All of these amendments to the House budget will help to ensure that our district receives funding for important projects. Here is a list of the budget amendments that made it through the process so far.
Item 468 #2h, Encroachment Mitigation – Joint Base Langley Eustis
This amendment sets aside $350,000 per year of the biennium to be used for encroachment mitigation in the vicinity of Joint Base Langley-Eustis. A military construction project that will commence in the calendar year 2022 will build a new access control point on approximately 13 acres of property in Newport News. Funds allocated for land purchases will be matched on a 1:1 basis by non-State dollars.
Christopher Newport University – Operating Support
This amendment provides $5.0 million in operating support for Christopher Newport University. 2022 was the fourth consecutive year of level tuition, a smaller freshman class, one-time funding sources, and cost pressures.
In the SENATE: Item 136 #2s, Soundscapes
This amendment provides $90,000 each year from the general fund to the City of Newport News for the Soundscapes music education program. This program teaches critical life skills to socio-economically disadvantaged youth through a rigorous, daily after-school curriculum beginning in second grade through high school.
What to expect from Special Session I on April 4th:
We will be carrying over the budget bills HB29/SB29 and HB30/SB30 as well as a few remaining pieces of legislation to the future special session.
There are a number of differences between the proposed House and Senate versions of the 2022-2024 biennial budget, however, both budgets would provide one-time rebates and reduce the grocery tax while making record investments in education. The House version of the budget favors larger tax cuts, while the Senate budget favors larger investments in state resources and programs. The Commonwealth Institute for Fiscal Analysis has wonderful resources on its website that provide greater detail on the competing priorities within each chamber's budget.
In addition to the budget, the General Assembly will use the special session to finish work on a few remaining pieces of legislation that were left in conference committee during the 2022 regular session. Here is a list of some of the notable remaining bills:
The above information is a preview of what to expect when we reconvene on April 4th for the 2022 Special Session but it is by no means an exhaustive list. Unlike a regular session, a special session is not time-limited. We have seen some be as brief as 90 minutes, while others have dragged on for nearly 90 days.
Senator Mark Warner Visits the Pennisula
Senator Warner joined the Historic Triangle Democrats in Williamsburg for a breakfast event where he discussed his Federal legislative priorities and an update on the conflict in Ukraine. Hearing from the Chairman of the Senate Intelligence Committee was extremely informative.
Nitha Nithin Winner of the Virginia Lottery "Thank a Teacher" Art Contest
The Virginia Lottery is preparing to thank teachers in an artistic way, thanks to some talented public-school artists. A York County student was honored today as one of three winners of the fifth annual Virginia Lottery Thank a Teacher Art Contest. Nitha Nithin, a fourth-grader at Coventry Elementary School, won in the contest's elementary school category.
Three winners (one each from the elementary, middle, and high school levels) were selected from nearly 300 entries to have their artwork featured on thank-you notes that will be distributed to thousands of teachers across the Commonwealth during National Teacher Appreciation Week (May 2 – 6, 2022). Thank a Teacher is a statewide campaign organized by the Virginia Lottery in partnership with The Supply Room, IGT, NeoPollard Interactive, and the Virginia PTA. Over the years, through this campaign, Virginians have sent more than 175,000 thank-you notes and have awarded ten fabulous Virginia-themed trips to deserving teachers.
Read more HERE
In the News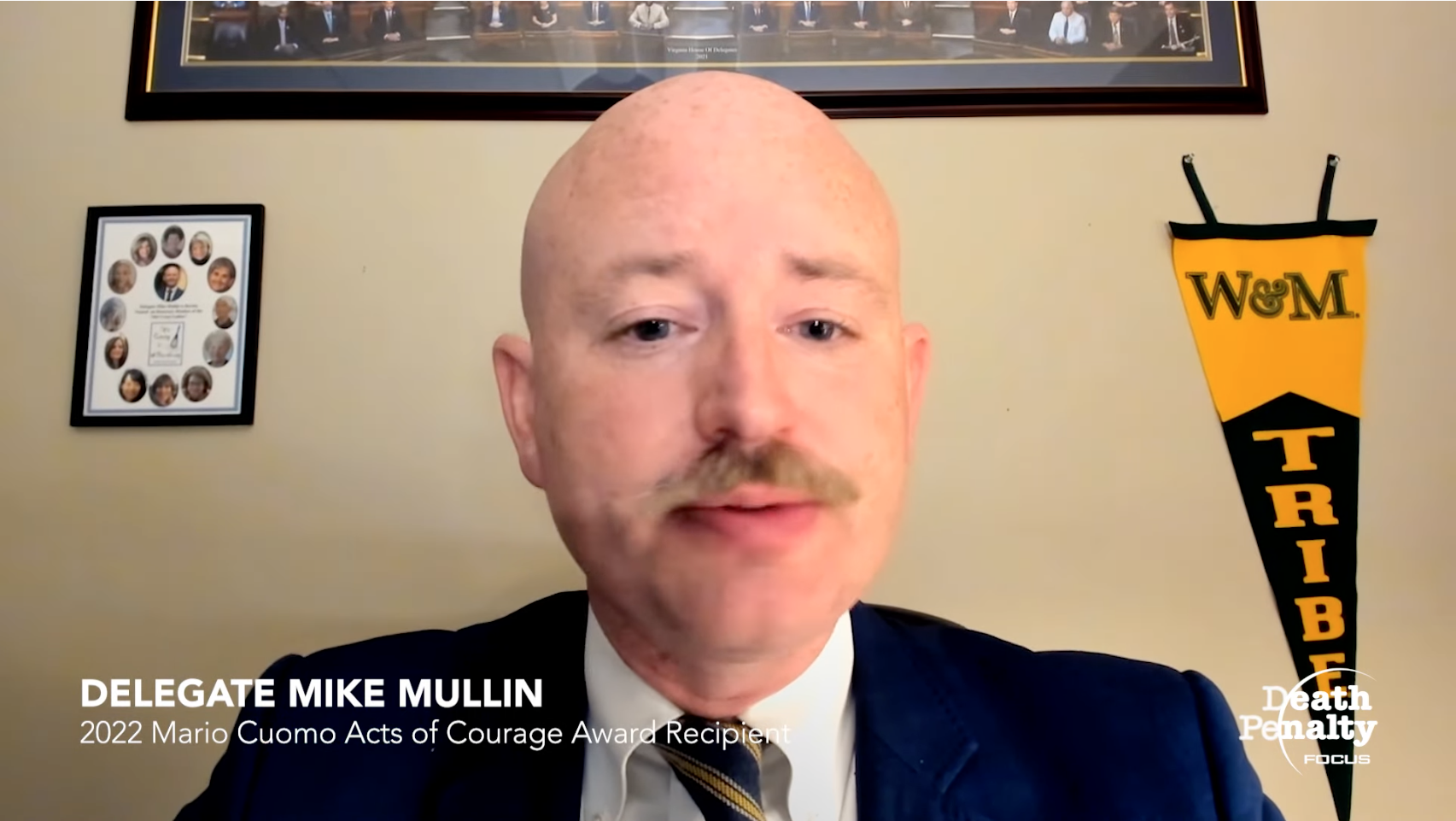 Death Penalty Focus: 2022 Mario Cuomo Acts of Courage Award Recipient
CNU Newsroom: CNU Students Make Connections in Capital
WAVY News: Newport News creates Youth Diversion Program to help keep kids out of criminal system
Virginia Mercury: As state mental hospitals struggle, lawmakers eye the agency overseeing them
Daily Press: Welcome to Teen Court: Underage defendants facing first-time charges in Newport News can go before jury of their peers
As always, thanks for reading! Keep connected with our office by calling (757) 525-9526, emailing DelMMullin@house.virginia.gov, or @mikemullin4va on Facebook, Instagram, and Twitter. If my office can ever be of assistance to you, please do not hesitate to contact us!
Be well,
Mike